By the Poughkeepsie Journal:
March 28, 2017
The idea behind "Smoke Signals" was to use expressions of art, photography, sculpture and more to express the changing environment and world we live in.
I split my time between the Hudson Valley and New England, where I've been working on my master of fine arts in Interdisciplinary Art at Goddard College in Plainsfield, Vermont. At our residencies, surrounded by an incredibly diverse and talented group of undergraduates, teachers and advisers, we come together to celebrate our work and learn from each other. In one such residency, "Smoke Signals" was born.  Art can move people and even spur change.
People inspire me and openness to new ideas moves me. When I began searching for an art gallery to exhibit "Smoke Signals," the membership at Tivoli Artists Gallery embraced the concept.  Fast forward, the exhibit, which runs through Sunday, April 2, features 26 artists in this moving and civic-minded show, all rising to the challenge of expressing views through art. Whether it be environmental protection, social conflict or hope for the future, there are unique voices on display and, I feel, a special energy can be felt.
WHAT INSPIRES ME: Photographer explores 'vital relationship' to nature
As a photographer, teacher and parent I've been working for more than 25 years to create art that makes statements that resonate both intellectually and aesthetically with people.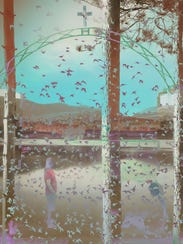 "Dreaming Out Loud," photo/illustration by Dan Goldman on view in the exhibit "Smoke Signals," at Tivoli Artists Gallery. (Photo: Dan Goldman/Courtesy photo)
In a past era, smoke signals were originally used by Native Americans on the plains as a form of communication, warning or a call to action. It seemed appropriate that this show borrow that name and connect to its original meaning. The exhibit is an alert that addresses today's issues surrounding the earth, our communities and what tomorrow may bring.
My love for nature runs deep. I've spent time on Native-American reservations and I'm inspired by their reverence for Mother Earth and all life on it. Their perspectives on the world and spiritual beliefs are powerful. It was not hard for me to understand and appreciate their perspective and it has always resonated within me.
I'm obviously passionate about art and I'm an advocate for both local and global protection. These times are volatile and I think, in my own way, I can help raise awareness of issues that are important to me, while encouraging artists to communicate with imagery, moods, tones and words.
"Between Then and Now," photo/illustration by Dan Goldman. (Photo: Dan Goldman/Courtesy photo)
To maximize the opportunity to produce "Smoke Signals" at Tivoli Artists Gallery, we were determined to make the most of it. The weekend following the opening, we hosted a panel discussion with Paul Gallay of Riverkeeper, Wes Gillingham of Catskill Mountainkeeper and participating artist Norm Magnusson. This was a potent intersection of art, politics and the environment issues we face locally – especially along the mighty Hudson River. Our panelist did a great job educating and motivating us to what's happening on a local and national level, with insights to what everyone can do to get involved to affect safe and healthy changes.
My hope is that "Smoke Signals" can live on. I'm interested to see it at other venues, in college settings and so on. Since "Smoke Signals" began, I created a series of four new art compositions exploring relationships between the physical, natural and spiritual world. In acknowledging these connections the door opens to reveal wiser ways of living our lives. I encourage anyone to start sketching, painting, writing – whatever works for you to convey your feelings or ideas as they relate to the world at large.
Dan Goldman (Photo: Courtesy photo)
Dan Goldman was a commercial photographer in New York City before coming to the Hudson Valley. He is a teacher at the Devereux School in Red Hook, as well as instructor at The Rhinebeck Photography and Art Center. He is working on a book of photography with accompanying prose titled "Cooper Lake: my muse." Contact him at [email protected]; visit  www.rhinebeckphotoarts.com
Full link here: http://www.poughkeepsiejournal.com/story/entertainment/2017/03/28/smoke-signals-artists-earth-social-issues-tivoli-artists-gallery-riverkeeper-catskills-mountain-native-americans/99735024/
Do you like this post?