link to complete article is here: http://www.nytimes.com/2010/02/26/greathomesanddestinations/26away.html
Away
A Shop of Her Own and Good, Clean Dirt
Phil Mansfield for The New York Times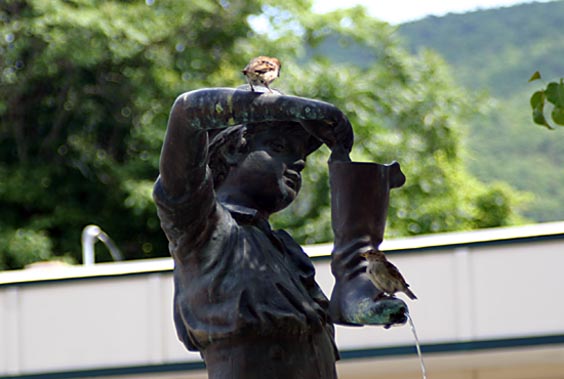 That Mysterious Boy with the Boot By Brian Rubin
So what's the story with that 'Boy with the Boot' statue, anyway?
At the lower end of the Catskills, in southwestern Ulster County, where the Catskills meet the Shawangunk Ridge — a mountainous-type terrain that runs from the Lake Mohonk and Minnewaska area down to Port Jervis, where it then continues as the Blue Mountains on the other side of the Delaware Water Gap — there is a small community called Cragsmoor that is nestled on top of the highest point in the Shawangunks, which enjoys scenery that rivals that from the Catskill escarpment and the old Catskill Mountain House vista.
Because of its locale, Cragsmoor — like Palenville — enjoyed an early period as an artists' colony, with names like E. L. Henry, Frederick Dellenbaugh, George Inness, and, later on, Charles Courtney Curran bringing the attention of the nation to the raw beauty and majestic landscape that is literally perched atop Ordovician pebble soil — a distinctly different look and feel to the lay of the land than anywhere else in the Hudson Valley.
It houses the world's only high elevation dwarf pitch pine forest and — once embraced within a 20th century tourist facility called Ice Caves Mountain — the adjoining lookout from Sam's Point is today part of the 5,400 acre Sam's Point Preserve, owned by the Open Space Institute and managed by the Nature Conservancy.
DELHI, NY (01/20/2010)(readMedia)– For folks who like walking uninterrupted above the crowds on New York City's Highline – they should check out the Catskill Mountains uncrowded trails, ski slopes, and main streets for real winter relaxation. The Western side of the Catskills is the first mountain range east of the Rockies that accomodates a snowline at 1800 feet above sea level. Winter weather systems that move through leave a clearly delineated line on the mountain tops where there snow precipitation really cranks it up a notch. Understanding that most folks in the metro area don't think snow if it's not in front of them, the Great Western Catskills Facebook page now includes a Photo of the Day section so you can remember just what the white stuff looks like and be inspired to plan a visit.